Welcome to Remember When Farm!
We raise free ranging Chickens, Barbados Black Belly Sheep, Honey Bees, Peacocks, Guineas, Turkeys, Pigs and well....take a look you never know what might show up on our farm!

We use no pesticides or sprays on our farm. Our birds range the farm freely, giving us yummy eggs full of healthy goodness!!

We plant numerous herbs and clover and let the wildflowers grow, so our Honey Bees have a healthy environment which in turn helps them make us the best honey they can make!

Our sheep and chickens are pasture raised, with hay and grain/minerals when needed. No antibiotics are used unless absolutely necessary for the health of the animal. We will not let our animals suffer from an illness.



Our Little Slice of Heaven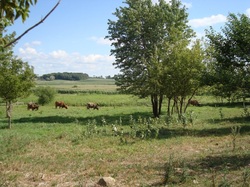 We are located in South Central Wisconsin in beautiful Green County! All of our animals are raised as naturally as possible in this day and age, and are always treated with respect! We do not give farm tours at this time, as our animals are not used to having other people coming onto the farm......and it can cause them great stress. We do have a Facebook page, where we try and share as
much as possible with pictures and stories.
---
What We Sell
We have Live animals for sale on and off year round. Lambs, Calves, Peacocks, Chickens, Chicks, Rabbits, and we also offer Incubation of Eggs. Eggs & Meat are for sale locally only. Honey is for sale both locally and we can ship it!
You can contact us thru the contact form above or "like" us on Facebook, where we post pics of animals for sale, and available meat, and lots of fun things around the farm, new critters, and old, as well as pics when we extract honey.
Hope to hear from you soon! ;-)